More than 2,000 years ago, the Greek philosopher Heraclitus said, "The only thing that is constant is change." Today, change management guru John Kotter, author of the New York Times best-selling book Leading Change, asserts that the greatest challenge business leaders currently face is how to maintain a competitive advantage in the midst of constant change. Apparently, Heraclitus was right.
History is replete with examples of well-known companies that were once leaders in their industries but failed to successfully keep up with the speed of change. For example, in the 1970's, photography giant Eastman Kodak was one of the most dominant and respected companies in the world. But they failed to keep up with the digital revolution and filed for bankruptcy in 2012. And of the 11 "great" companies that Jim Collins highlighted in his 2001 best-selling book, Good to Great: Why Some Companies Make the Leap . . . and Others Don't, two were bankrupt a decade later (Circuit City and Fannie Mae).
All of this begs the question: What's the best way to create innovation in your organization to maintain your competitive edge in a rapidly changing environment? Here are three considerations that might help:
1. Understand the natural organizational tension that exists between operations and innovation
In any organization, there's a natural tension that exists between operations and innovation, often characterized by a divergence in their focus. On one hand, operations team members tend to believe that their innovation counterparts are excessively absorbed in "blue sky" theoretical possibilities, neglecting the importance of near-term practical realities. They see them as too future-oriented, potentially overlooking present necessities. On the other hand, innovation teams often perceive operations as being myopically focused on maintaining the status quo, lacking the imagination required to unlock future value. They see them as too rooted in the present, unable to envision transformative potential. This tension, while challenging, can also be a powerful catalyst for growth if managed effectively.
2. Consider your time horizon and available resources, then decide whether you want to focus on evolutionary or revolutionary innovation, or both
When developing your innovation strategy, it is essential to consider your time horizon and available resources. These parameters will guide you in determining whether your focus should be on evolutionary or revolutionary innovation, or perhaps a blend of both. The expected magnitude of change hinges largely on these factors. Evolutionary innovation adopts an iterative approach, aiming to create quick, incremental changes with typically less investment required. On the other hand, revolutionary innovation takes a disruptive approach, fostering transformational changes that often necessitate a more substantial investment. Balancing these two forms of innovation according to your specific circumstances can lead to optimal outcomes.
Evolutionary innovation can be best understood through real-world examples. Take Amazon, for instance. It began its journey as a simple online bookstore and gradually evolved into the world's leading online retailer, demonstrating incremental growth and expansion over time. Similarly, Google started off with a mission to "organize the world's information and make it universally accessible and useful." Since then, it has evolved significantly, branching out into diverse realms such as virtual collaboration, real-time navigation, satellite imagery, autonomous vehicles, and augmented reality. These examples illustrate how evolutionary innovation can enable companies to expand their horizons and progressively redefine their capabilities.
Examining examples of revolutionary innovation can also provide insightful perspectives. Consider Lockheed Martin's Skunk Works, an advanced research facility in Palmdale, California near the Mojave Desert. This facility is known for developing next-generation weapons systems, such as stealth aircraft that have entirely revolutionized military doctrine and tactics. Another example is Bell Labs, the separate R&D arm of the former Bell Telephone Company now known as AT&T. With a record of nine Nobel Prizes and a plethora of revolutionary inventions, Bell Labs has significantly influenced various facets of modern life. Some of their groundbreaking inventions include sound motion pictures, television transmission, transistors, solar cells, and lasers, just to name a few. These achievements highlight the transformative power of revolutionary innovation.
A prime example of a combination of evolutionary and revolutionary innovation can be seen in Apple's trajectory. The tech giant revolutionized information access and personal communications with the introduction of the Mac computer and iPhone. These revolutionary products fundamentally transformed our interaction with technology. However, Apple didn't stop there. It further evolved these groundbreaking innovations into a suite of related products, enhancing and expanding their initial offerings. This evolutionary phase saw the birth of products like the iPad, Apple Watch, AirPods, and Apple Vision, each offering incremental improvements and expansions on the original revolutionary idea. This blend of revolutionary and evolutionary innovation has been key to Apple's sustained success in the competitive tech industry.
3. Integrate innovation to create evolutionary change, and separate it for revolutionary change
The process of integrating or separating innovation in your organization is largely determined by your innovation time horizon, available resources, and the type of change you aim to pursue. If your goal is to create incremental, evolutionary change, it's beneficial to integrate your innovation efforts with your day-to-day operations. This integration allows for ongoing improvements within your current operational framework. However, if your objective is to create transformative, revolutionary change, it's advisable to separate your innovation team from your operations. By placing some distance between the two, your innovation team can concentrate almost exclusively on exploring and developing future possibilities, free from the constraints of daily operational demands. This strategic organization of your innovation efforts can significantly influence the rate and scale of change your organization can achieve.
The graphic below illustrates the relationship between the magnitude of relative change desired (evolutionary vs. revolutionary) and the degree of organizational compartmentalization (integrated vs. separated) that's often required to achieve innovative change. The examples mentioned above are qualitatively plotted in the framework, creating a "Blue Sky Curve."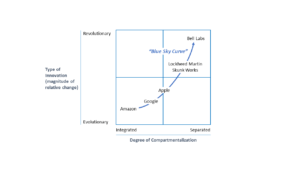 In the lower left quadrant, integrating innovation with operations tends to produce evolutionary change, like Amazon, who continues to promote a "Day 1" mindset focused on constant customer satisfaction through rapid innovations. In the upper right quadrant, separating innovation from operations enables more "blue sky" thinking that tends to produce revolutionary change, like Bell Labs, which was intentionally partitioned from its parent company to create exclusive time and space for revolutionary thinking and experimentation.
This design decision doesn't have to be mutually exclusive, however. For example, the companies on the "Blue Sky Curve" between Amazon and Bell Labs have used varied degrees of compartmentalization to drive innovation. Google's innovation model is fairly integrated, but they also fence off discretionary time for employees to pursue "blue sky" thinking and collaboration, which has enabled them to explore more revolutionary frontiers such as wearable technology, driverless cars, and renewable energy. Apple has used a balanced approach by compartmentalizing both time and space for innovation efforts while prioritizing cross-functional collaboration, resulting in both the revolutionary and evolutionary products previously mentioned. And Lockheed Martin's Skunk Works innovates in an isolated facility using top-secret test ranges, but they also maintain continuous lines of communication with operators to ensure tactical and operational relevance.
Bottom Line
Today's rapidly-changing business environment combined with the natural tension between operations and innovation begs the question: How will you innovate to maintain a competitive advantage? To answer this question, consider where you want to be on the "Blue Sky Curve" compared to where you are now, then organize your innovative efforts to get there.
Sources
Harvard Business Review: Stop the Innovation Wars
Amazon: Elements of Amazon's Day 1 Culture
Investopedia: The Story Behind Google's Success
Harvard Business Review: How Apple Is Organized for Innovation
Ben Rich: Skunk Works: A Personal Memoir of My Years at Lockheed